The rise of competition from agile and fast-growing fintech companies, new government regulations and open banking have undoubtedly resulted in demands for financial services institutions to reinvent themselves.
While 9 in 10 business leaders in the Asia-Pacific (APAC) region's financial services sector agree that AI is instrumental to their organization's competitiveness, almost half have yet to incorporate the technology into their digital transformation efforts.
How imperative AI is to future growth, and how exactly does an organization act upon those demands may be unclear.
Microsoft Asia and IDC Asia/Pacific have just released findings specific to the Financial Services Industry (FSI) from the study Future Ready Business: Assessing Asia-Pacific's Growth with AI, which found that organizations with AI expect to see 41% improvement in competitiveness in three years.
The study also found that more than half (52%) of the region's FSI organizations have already started on their AI journeys. This is higher than the Asia-Pacific average of 41%, indicating that the sector is more advanced than others in the region.
"The digital economy has resulted in demands for organizations to reinvent themselves such that they remain relevant to their customers. To do so, FSI organizations need to address three key imperatives – how to leverage data and AI for their operations, how to build and maintain trust among their customers, and how to tap on partnerships to drive innovation to stay ahead of the game," said Connie Leung, senior director, financial services business lead, Microsoft Asia.
By 2021, organizations expect between 35% to 45% improvements, with the biggest jump in the rate of higher margins (estimated increase by 2.1x.).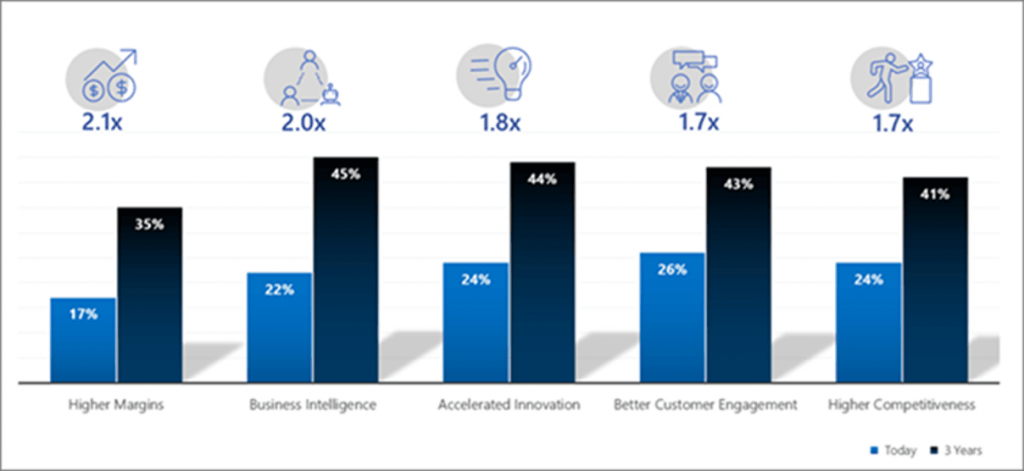 An example of a company that has started its AI journey is China Asset Management Company (AMC). AMC serves more than 46,000 institutional clients and 110 million retail investors, with US$153 billion in assets under management.
When it comes to quantitative investment – a method of analyzing data like price and volume to calculate which stocks to buy or sell and when – the tricky part is collecting the right data from the mountains of information available. Additionally, financial data is "noisy," meaning there are many potentially misleading signals that need to be filtered out.
To overcome these challenges, the company turned to Microsoft Research Asia (MSRA) to build the "AI+Index Enhancement" machine learning model for fund managers and traders.
The model helps them to make better informed buy-and-sell market decisions that bring in higher returns for their investor clients. Designed to sift through and analyze vast amounts of real-time financial data, the model is now undergoing testing, and is well ahead in performance when compared against the market or specific indexes.
"AI is a critical technology in driving financial transformation, and it is of great significance to tap into the convergence of AI and financial services," said Li Yimei, general manager, AMC.
FSI organizations need to build on capabilities, infrastructure, strategy and culture
The study found that 9 in 10 business leaders from the FSI sector agree that AI is instrumental to an organization's competitiveness. However, the top adoption challenges faced by FSI organizations include lack of skills, resources and continuous learning programs, lack of thought leadership and lack of advanced analytics and tools.
"Companies still face challenges in maximizing AI's ability to accelerate their transformation journeys. Often, they are hindered by various challenges that spread across infrastructure, skills and culture. Hence, we need to look at AI deployment and development from a more holistic perspective," said Victor Lim, vice president, consulting operations, IDC Asia/Pacific.
Compared to the rest of the organizations in Asia-Pacific, AI Leaders are more likely to:
Increase investments every year to support an organization-wide AI strategy
Have a centralized team of specialized roles to develop and validate AI models for the organization
Have advanced AI analytics and tools such as Robotic Process Automation and Natural Language
Processing in their existing technology mix
Have in-house capabilities of developers, specialists and data engineers
Have ongoing enterprise data governance practices jointly performed by IT, business and compliance teams