Online chats, in-app chats, IVR channels, omnichannel marketing—their adoption has been sped up by seven years within 2020: survey.
A global survey report to measure the impact and outlook of the pandemic on the digital engagement strategies of enterprises has revealed some notable findings. 
Conducted by digital communications firm Twilio across 844 enterprise decision-makers in Australia, Japan and Singapore to gauge their views on digital engagement as a result of COVID-19, the report findings include: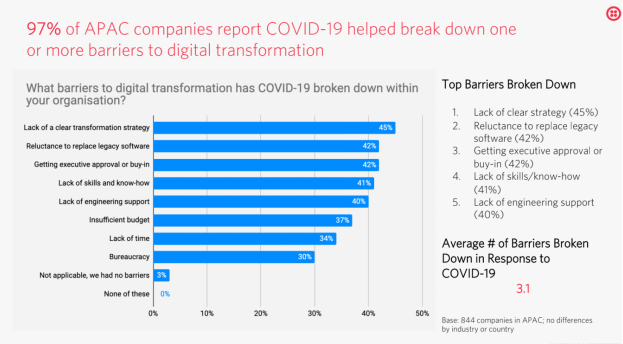 COVID-19 was the digital accelerant of the decade 
a. COVID-19 has accelerated companies' digital communications strategy by an average of 7 years—this is higher than the global average of 6 years. 
b. 98% of enterprise decision-makers believed the pandemic sped up their company's digital transformation.
c. 82% of retail and e-commerce companies in the Asia-Pacific region (APAC) reported that digital transformation sped up a great deal in response to COVID-19, ahead of technology and finance companies.

Previous barriers to innovation have been brought down 
d. 97% of APAC companies reported that COVID-19 helped break down one or more barriers to digital transformation.
e. Companies reported easing of barriers such as: lack of clear strategy (45%), reluctance to replace legacy software (42%), getting executive approval (42%), lack of skill-/know-how (41%), and lack of engineering support (40%).
f. 85% of respondents said that COVID-19 increased the budget for digital transformation.
g. Almost one in three organizations in Japan and Singapore saw a dramatic increase in digital transformation budgets, which was 9% ahead of Australian organizations.

Digital communication is the new lifeblood for business 
h. Almost all companies (95%) were seeking new ways of engaging customers as a result of the pandemic.
i. 93% said transforming digital communications was extremely or very critical in addressing current business challenges.

Omnichannel communication is taking on new importance 
j. 92% said their organization was very or somewhat-likely to expand digital communication channels as the world reopens.
k. Over half (54%) said COVID-19 propelled focus on omnichannel communications and 51% added new channels amid the pandemic.
l. Almost half of financial companies in APAC had dramatically increased their use of in-app chat in response to the social distancing measures.

Digital communications channels preferences varied across Australia, Japan and Singapore 
m. Singapore companies were the most likely to dramatically-increase their use of video and email as a result of pandemic, while Australian companies have implemented an average of four net-new channels.
n. One in three companies in Australia and Japan started using live chat and IVR channels for the first time as a result of the pandemic.